RFID

Solutions

We create customized RFID solutions to promote productivity, safety and accountability in the workplace. A combination of our hardware, software and our desire to increase workplace efficiency has delivered excellent results in a variety of industries.
OreTag & Ore

Tracking

TopVu®'s RFID OreTags are designed to survive the ore circuit. Detectors are located at strategic conveyor belts or free-falling transfer points.
Dectect the ore's origin
Monitor ore flow based on time stamps
eTag®

Board

It's often called a smart tagboard, an intelligent tagboard, an electronic tagboard. The eTagBoard becomes a key component in your operation to increase:
Safety efficiencies
Production efficiencies
Documentation efficiencies
Mine rescue efficiencies
eTool®

Dispenser

TopVu® Etool Dispenser works in conjunction with the TopVu® Software and the RFID tags in order to control and monitor equipment, tools, etc. The Etool dispenser also tracks real time and historical information, cutting the costs for lost and damaged equipment.
Document Inventory History
Passive RFID Strips Require No Batteries
TopVu® Software +

Integration

TopVu®'s user friendly interface provides you with a Vu from the top down into your mine. Location data is available from anywhere on your network. Designed for eTag® Board, eTool®, D-RDR/Tracking, and OreTag/Ore Tracking
Alarm/Alert Configurations
Real-Time & Historical Reports
View, Print & Email Reports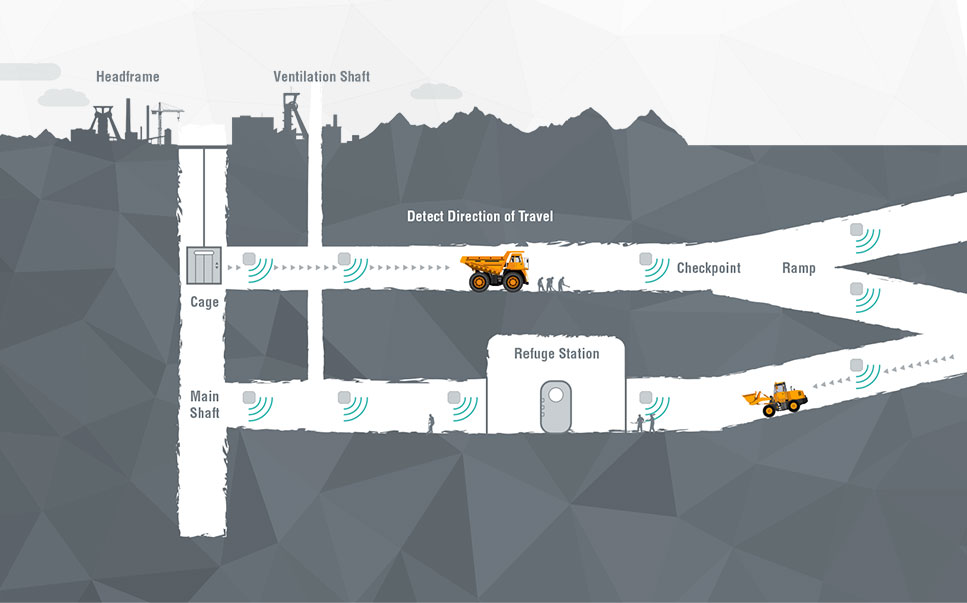 Tracking & Location

Services

TopVu®'s software suite provides you a Vu of your operation.
Find your personnel, equipment & material
Real-time & historical reports
Monitor ramp traffic & analyze haulage activities
Checkpoint strategy is effective & most economical
D-RDR Dual

Reader
Active WiFi & passive RFID technology
Detect personnel, equipment & material
Used for automation or tracking solutions
Local inputs & outputs
Use with TopVu® software suite
Leaky Feeder, Ethernet & Fibre
TopVu® Portable RFID

Solutions

TopVu® has a variety of hand-held RFID scanners. Our coders can develop software applications to suit your needs.
Portable RFID scanning & detection
Customized interface to meet your needs
Perfect for inventory management
Passive RFID

Tags
No batteries to manage
No maintenance required
Detection range up to 100 ft (30 meters)
Custom RFID

Solutions

TopVu® has the expertise to design RFID hardware solutions and develople software to help track & manage your assets.